Finnish family business

Recommended by health professionals

Two-week satisfaction guarantee
Regular price
€168,00 EUR
Regular price
€168,00 EUR
Sale price
€168,00 EUR
Unit price
per
Sale
Sold out
View full details
Test the saddle chair risk-free for 2 weeks
If you don't feel the difference - return the saddle chair free of charge.
You can test use the saddle chair for about two weeks. If for some reason you need more time, please contact us: info@humantool.fi or phone 0100 666 7500
Ergonomic and movement-promoting seat solution
Improve your work ergonomics and keep your back healthy with the Humantool saddle chair. Its unique design enables an ergonomic sitting position and helps reduce back and neck pain.
In addition, the chair allows you to keep your back active by moving while sitting.
Easy portability and versatility
Enjoy mobile seating anywhere! Humantool's saddle chair is light and easy to move from one place to another.
Use it at home, in the office or even on trips. It is suitable for use on traditional chairs as well as sitting on the floor.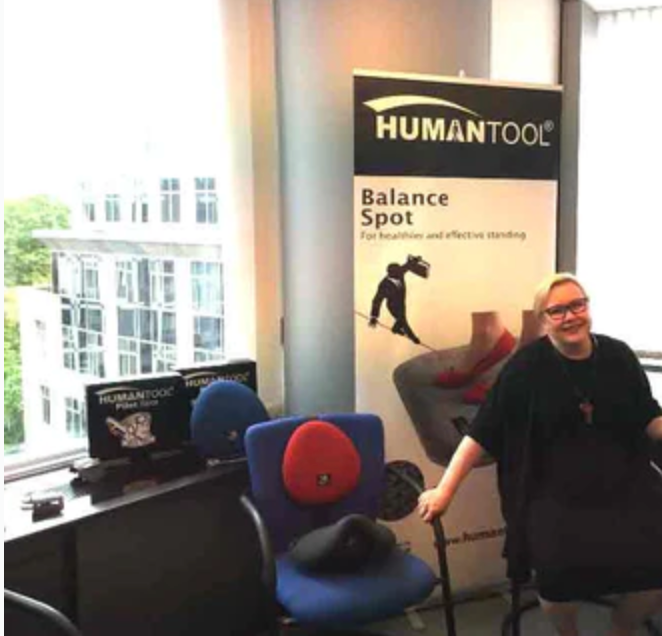 Clear health effects and positive evaluations
The product is loved by customers all over the world! Saddle chair users have reported reduced back and neck pain, better posture and increased movement while sitting. Join the group of satisfied customers and try for yourself how Humantool's saddle chair can improve your well-being.
Proven to work
Excellent seat, the BEST!
I have had one for 13 years and it goes everywhere with me, I have Fibromyalgia and this seat means I can sit anywhere as it takes the pressure off the back of my legs and I have great posture when using it. I recently purchased another one and the whole shopping on the website process was easy, plus the shipping from Finland to Australia was super fast. A wonderful product and a wonderful easy shopping experience.
Erittäin hyvä tuote !
Nimenomaan se, että tuolin saa mukaansa alustan kera joka paikkaan, tekee tuotteesta oivallisen. Minulla on käytössä matala versio, mutta sekin tuntuu tuovan aivan riittävästi liikettä alustaan.
Ainoa "apuväline" mikä käytössä joka päivä
Joka päivä käytössä n.15 min ajan,ja lisäksi silloin kun selkä on kipeä. Ensimmäisen Humantool satulatuolin ostin joltain messuilta n. 13v sitten ja olut käytössä siitä saakka päivittäin kipeän selän vuoksi. Nyt oli kuitenkin aika hankkia uusi kun vanha mennyt rikki "alapohjasta", eikä enää oma korjaus auttanut pelastamaan hyvää "palvelijaa"
Kokeiltuani tuotetta ostin sen joululahjaksi etätyötä paljon tekeville nuorille. Tuolia oppii nop...
Hyvä, kiva väline . Sopii niin työhön kuin kotiin vapaa-ajalle. Jopa jääkiekkopelin seuraaminen onnistuu hyvin tällä istuimella.
Etäpäivien pelastus
Teen harvoin töitä kotona, ja etäpäivät ovat yleensä olleet aika tuskaa selkäongelmien vuoksi. En ole halunnut panostaa esim. kunnon työtuoliin tai sähköpöytään, koska en halua minkäänlaista muistutusta töistä kotona. Olen nyt tehnyt pari viikkoa etätöitä, ja Humantoolin satulatuolin ansiosta nämä viikot ovat menneet kivuttomasti. Suuri kiitos teille!
Humantool saddle chair vs. normal chair
FAQ
ORDERING:

Can I pay by Invoice or Online Invoice? Yes you can, then select

the green

"Payment methods" button in the shopping cart. Through it you can choose, for example, Humantool Invoice or Online Invoice.
How much does shipping cost? Delivery and possible returns are free.
TRIAL RUN:

How long can I test use the product? About 2 weeks. If for some reason you need more time, please contact us: info@humantool.fi or phone 0100 666 7500
RESTORATION:

How do I return the product? Contact us and we will give you the code needed for the return, so you can make the return via Posti without costs. info@humantool.fi or phone 0100 666 7500
SADDLE CHAIR:

Which chair is the saddle suitable for? As a rule, for all chairs, padded office chairs or even sofas and hard ones, such as a wooden chair. You can put a hard base on soft chairs and a soft felt base on a hard chair.
The chassis, can it be bought separately? Yes you can order it here>>
I have back problems, is the product also suitable for me? For normal minor neck, shoulder or back pain, the saddle chair works perfectly. Movement is medicine and even a small movement activates small deep muscles that should support the spine. However, if you suspect more serious problems, we recommend checking the product's suitability for you, e.g. with a health professional. You should order the product for trial use and try it in very small batches, e.g. 10 minutes at a time. By experimenting in this way, you listen to your body and no damage can occur.
BACK SUPPORT:

Is the backrest suitable for all cars? Yes, suitable.
I have a broken spoon-shaped part on the strap, what should I do? Contact us and we'll put it in an envelope.
My strap is lost, what do I do? You can order a new one here>>
WARRANTY:

The product is broken, is it normal and is the warranty valid? Product warranty for 2 years and it covers material and manufacturing defects. If you don't remember when the product was purchased, you can send us a picture. Based on that, we usually see the date of manufacture. Our products are handmade in Finland and are usually very durable. We only use high quality materials.